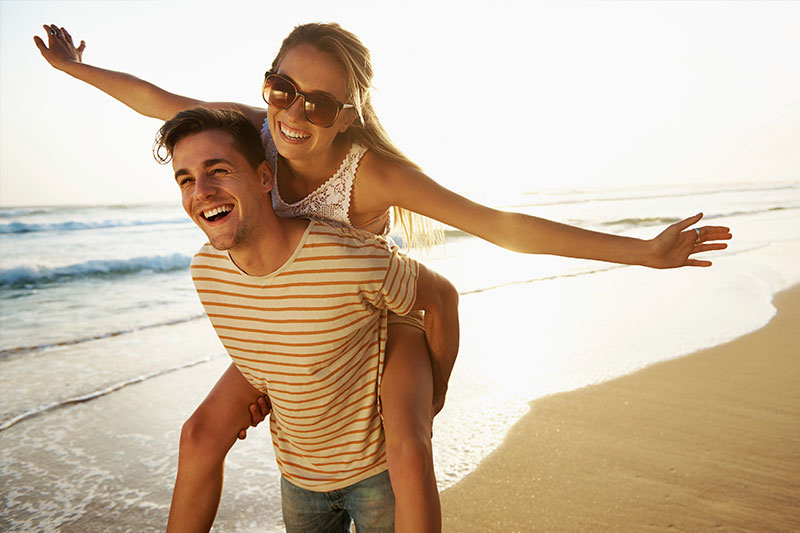 Our passion is making our patients' smiles the best and brightest they can be! We know that there is nothing more valuable than the self-esteem gained from having a terrific smile, which is why we offer a variety of advanced aesthetic dental procedures.
Teeth Whitening
It's an unavoidable fact: your teeth will darken over time. Food, drinks, tobacco, improper oral hygiene, even injuries and illness can all cause your smile to tarnish. But a white, bright smile makes a great impression, which is why we offer effective tooth whitening services.
If you've used over-the-counter solutions for teeth whitening such as toothpastes, rinses or paint-on whiteners, chances are you've been disappointed. Our recommendations for teeth whitening that works are:
For mild cases: Over-the-counter Crest Whitestrips work great.
For moderate staining or faster results: Professional Strength Crest Whitestrips are more powerful than the over-the-counter version and still very cost-effective.
For more severe cases or long-term maintenance: Custom formed trays made in our office, used with prescription bleaching gel provide the ultimate lasting whitening.
While you may have seen advertising for in-office bleaching, sometimes using lights to activate the gel, we have found no scientific evidence that in-office or light activated bleaching has any lasting whitening benefit. Therefore, we don't waste your time and money on unnecessary gimmicks.
Come in for a consultation, and let our experienced team recommend a whitening solution catered to your needs. From light-activated gels to take-home trays, we have access to prescription-level whitening systems that you simply can't find anywhere else.
Veneers
Veneers are thin, semi-translucent shells customized from porcelain material and bonded to your teeth. Veneers are a great alternative to otherwise painful dental procedures to quickly improve the appearance of your smile.
Some common problems veneers are used for include:
Spaces between teeth
Broken or chipped teeth
Unsightly, stained or discolored teeth
Permanently stained or discolored teeth
Crooked or misshapen teeth
Veneers are a great aesthetic solution to your smile that may even help you avoid orthodontic treatment. Subtle changes to your smile can be achieved with veneers, and in most cases, veneer application is completed in only two office visits.
Dental Implants
Dental implants are one of the most popular choices for replacing missing teeth, due to its many strengths as a procedure. With dental implants, your tooth replacement looks, feels, bites and functions almost exactly like an actual tooth. Made of a biocompatible metal, implants are placed into the jaw and fuse with the surrounding bone and tissue. A crown is then placed on the abutment. Implants are a great choice for:
Single Tooth Replacement
Front Tooth Replacement
Back Tooth Replacement
Full Arch Replacement
Denture Stabilization
Composite Bonding
Composite bonding is used to improve the appearance of your teeth and enhance your smile. As the name indicates, composite material, either a plastic or resin, is bonded to an existing tooth. Unlike veneers or crowns, composite bonding removes little, if any, of the original tooth.
Composite bonding has many advantages:
Quick: composite bonding typically takes less than an hour to complete.
Conservative: Bonding does not reduce the tooth's original structure, keeping more good tooth enamel intact.
Frugal: Bonding is relatively inexpensive.
Natural: Composite resins better match natural tooth shades.