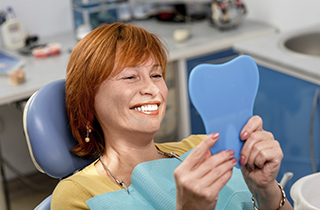 Same day crowns are becoming a popular substitute to traditional crowns whose biggest downside is the multiple appointments you need to have your smile fixed. With same day cerec crowns, the consultation, fabrication and fitting of the crowns is done on the same day and in a single appointment. This step-by-step account of a typical fitting appointment gives insight into what to expect of the procedure:

Stage #1 – Taking of impressions
After you have been checked for eligibility, your dentist will record impressions of your mouth and teeth in the form of 3D scans.

Stage #2 – Analysis of the impressions
The impressions will be analyzed manually by the dentist and the findings explained to you. Basically, you will get a better understanding of what your smile will look like at the end of the procedure.

Stage #3 – Crown fabrication
The data about the impressions will be edited if necessary before being fed into a milling machine. You will have to wait a few hours for the fabrication to complete.

Stage #4 – Finishing
The almost-ready crown will then be taken through a series of finishing processes to smooth out its edges and give it the desired natural-looking shape.

Stage #5 – Fitting of the crown
Fitting of same day crowns is no different from that of conventional crowns. Your dentist will carefully place the crown over the tooth being repaired using special cement and adjust its position until it is in line with other teeth. Minor reshaping might still be done at this stage to enhance comfort and improve bite accuracy.

Same day crowns in Iowa Falls

Conventional crowns can be an inconvenience to individuals who are too busy to afford two dentist appointments in a period of 2-3 days. Same day crowns not only fit well into tight schedules but also ensure emergency cases are handled promptly. Schedule your appointment with one of our dentists at Iowa Falls Family Dentistry for a single-appointment crown treatment. You can call us at (641) 648-4293 or fill out and submit an appointment form on our website.